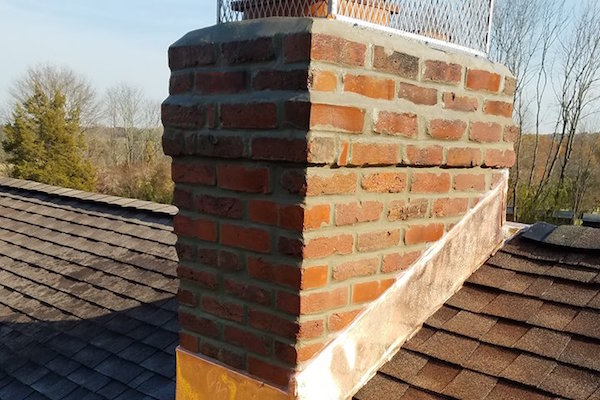 Have you ever heard of chimney caps in Mercer County? Your chimney provides warmth and adds an ambiance that is unmatched in your home. However, your chimney also presents an open-door opportunity for animals to enter your home. Closing off the chimney with a chimney caps closes the door to unwanted animal visitors and prevents costly problems caused by animal access into your home. Below are some top reasons people invest in chimney caps for their homes.
Chimney Caps in Mercer County | Unwanted Animals in the Home
Sometimes an animal that enters the chimney will eventually make its way into your home. Our office manager recalls a squirrel that terrorized the entire downstairs of her home after the poor fellow fell through the damper and into the firebox and could not re-exit. The anxiety that results from encountering a squirrel in your kitchen or seeing a bat or bird flying around your home leads to panic, as you try desperately to dodge the animal or coerce the bat out of your home! While animals are in your home, they can leave droppings and cause damage to your carpet and hardwood flooring.
Chimney Cap in Mercer County | Odors from Droppings
As small mammals such as bats, squirrels, raccoons and other animals go in and out of the chimney, they leave droppings. You may notice a foul odor on humid or warm days, as higher moisture levels and heat intensify the smell. If you light a fire in your fireplace, the fire can aggravate the unpleasant burning odor as the fire burns and activates odors from the droppings.
Mercer County Chimney Caps | Odors from Dead Creatures
When an animal enters your chimney and cannot escape back out the top, it may die. Typically, only raccoons and birds can escape from a chimney once they gain access into it. Other animals can't get back up the chimney, and they'll eventually die, leaving a very unpleasant odor for you to endure. The decaying body of an animal may also lead to other unpleasant problems, such as maggots feasting on the dead body.
Chimney Caps in Central NJ | Rain
Believe it or not, almost all rain in North America is acid rain. This light acidity degrades the cement in the mortar joints in between the flue tiles. Once the cement is degraded it is basically just sand. The next rain storm comes and washes out the sand. Now you have a code violation and potentially unsafe masonry chimney.
Looking to Add Chimney Caps to Your Home?
There are various types of Mercer County chimney caps to choose from. Whenever considering installing a new chimney cap, you should always contact an experienced professional. St. John Chimney Sweeps has been providing satisfied home owners with Mercer County Chimney Caps services for well over a decade and a half. We pride ourselves in our 100% customer satisfaction no-mess guarantee. Many of our quality products have a lifetime warranty. St John is a fully licensed and insured company is also a member of the National Chimney Sweep Guild (NCSG). For more information or for a free estimate, contact us today at: (609) 737-0133 or visit our website.
Related NJ Chimney Sweep Posts: