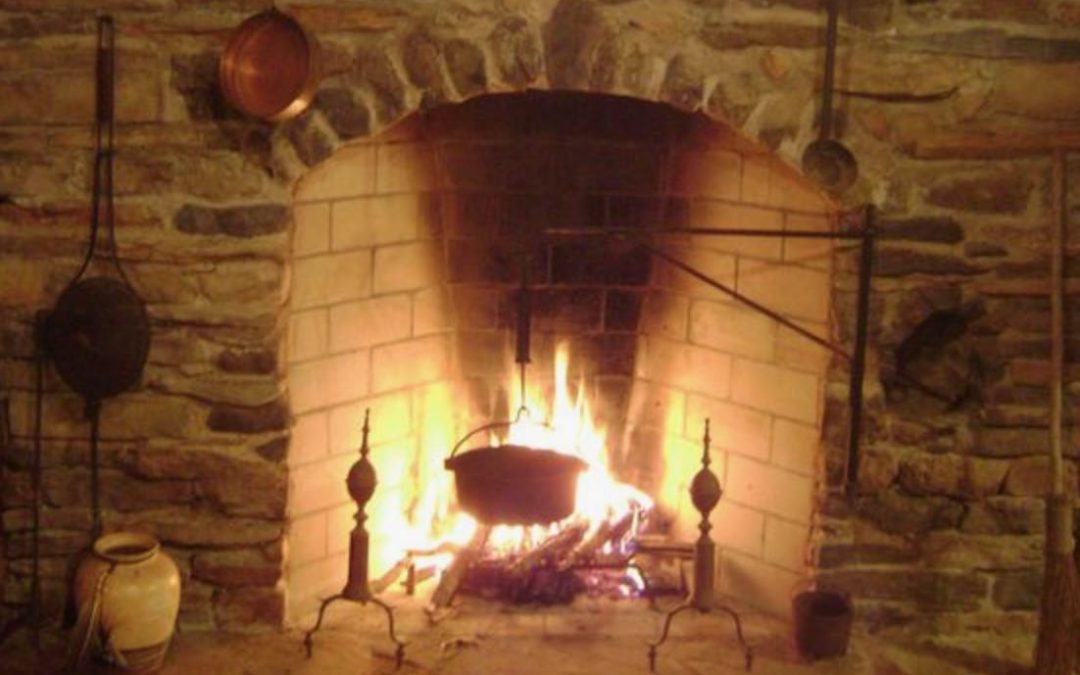 NO!  You cannot smoke your turkey in the Chimney even with the flu open.   Thanksgiving is by far the worst day for house fires in the U.S.  There were 1,600 reported home cooking fires, a 238% increase over the daily average, on Thanksgiving 2017, according to the U.S. Home Cooking Fires report released by the National Fire Protection Association.  That's more than three times the number of home cooking fires on a typical day.
Can I smoke the turkey in the chimney?
The leading cause of these fires is unattended cooking, according to the report.  With people preparing multiple dishes, often with lots of guests and other distractions in and around the kitchen, it's easy to see why the number of home cooking fires increases so dramatically.  Fortunately, the vast majority of cooking fires are highly preventable with a little added awareness, and by taking simple steps to minimize those risks.
The following is a list of tips for cooking safely on Thanksgiving based on the advice of the association and the American Red Cross.
Never leave the kitchen unattended while you're cooking on the stovetop.  Turn off the stove if you need to step out of the kitchen.
Keep flammable items, such as towels, oven mitts and wooden utensils, at least three feet away from cooking areas.
Make good use of cooking timers to keep track of when a dish should be done and to remind yourself the stove or oven is on.
Avoid wearing loose or hanging clothes or accessories that could easily come in contact with a heat source.
Keep children and pets at least three feet away from the stove and from hot foods and liquids.
Turn pot handles toward the back of the stove so they don't accidentally get bumped when someone walks by them.
Stay in the house when you're cooking turkey and check on it regularly.
Fires can start when the temperature gets too hot.  If you're frying food and start to see smoke or if the grease starts to boil, turn the burner off and carefully remove the pan from the heat source.
Keep a pan lid or cookie sheet close in case of a fire starting in your pan. Use the lid or cookie sheet to cover the pan and put out the fire, and make sure to leave it in place until the pan has completely cooled.
For an oven fire, turn off the heat and keep the door closed until you're confident the fire is completely out.  Stand to the side when you open the door just in case and call the fire department if you have doubts or concerns.
Check the kitchen before going to bed or leaving the house to make sure all appliances, burners and ovens are off.
Oven Roasted Turkey
When preparing your kitchen for a delectable thanksgiving, Turkey prep is at the top of list. Before actually cooking your turkey or any other food, ensure it is COMPLETELY THAWED to prevent a fire or explosion hazard.  Below are a few more useful tips to also to prevent fires:
After testing your food, immediately close the oven door
Keep your oven mitts and other cloth and paper out of the way of the burners.
Keep a fire extinguisher, baking soda and metal lids nearby to put out fires quickly.
NEVER use water on grease fire
Campfire Roasted Turkey
Campfire Roasted Turkey must always be cooked outside.   Food cooked in a fireplace tastes marvelous, better than food cooked in most conventional ways today—the charcoal [grill] included," says Suzanne Goldenson in the preface to her revised edition of The Open-Hearth Cookbook: Recapturing the Flavor of Early America.   "And with a few minor exceptions—large cakes, soufflés and other delicate confections—most anything one could desire to eat can be easily prepared in a fireplace."
Tools
A multi-pronged fork that can be used to roast hot dogs or marshmallows.
Wide fireplace shovels that can be used for making raclette or roasting chestnuts.
A wire holder at the end of a long handle for making grilled cheese sandwiches.
A cooking "crane"—a swiveling metal bar that can be mounted on a fireplace wall to swing out over the fire holding a cast iron pot to cook everything from soups to stews.
Sturdy trivets that can be placed at the edge of the fireplace as a base for skillets or pots to cook meats and vegetables beside the flames.
Ingredients
8-12 pound Turkey
salt and pepper
seasonings
Preparation
Serves 8 to 10 people.  Season the turkey with salt and pepper and a seasoning blend (if desired).   Place a meat rack in the bottom of a 14″ deep Dutch oven, spray with oil.  If stuffing turkey, pack loosely.  Place turkey on the rack.  The sides of the turkey should not be touching the Dutch oven.  Cover and start on low hook over medium fire.  When the turkey begins to cook (steam and sizzle), raise to higher #2 hook and continue cooking.  When the meat thermometer reaches nearly done stage, remove from fire, add top coals to brown and finish cooking.  Roasting time for 8 to 12 lb. turkey is 2-3/4 to 3 hours, if stuffed 3 to 3-1/2 hours.  Turkey is done when internal temperature reaches 180°F, stuffing 165°F.
Campfire Roasted Turkey
Of course, there are dangers to cooking inside that you won't face on an outdoor grill.  The main one is setting the house on fire.  Cooking flames should be small anyway, and easily flammable articles, including loose clothing, should be kept well away.  You'll also need caution to avoid burns both from the fire and from superheated cookware.   From cooking your bird to creating a cozy atmosphere, there are a ton of fire hazards for the holiday season.  Make sure your chimney is clean and ready for a cozy fire.
Contact us
St John Chimney Sweeps  Address  1613 Reed Rd D1, Pennington, NJ 08534 Proudly Serving Mercer County, Somerset County, Hunterdon County, & Surrounding Areas
Website http://www.stjohnchimneysweeps.com/
Email:  stjohnchimneysweeps@verizon.net   Phone Number: (609) 737-0133