The chimney is one of the most neglected parts of a home, but maintaining it is very important. Many homeowners neglect to schedule the necessary Mercer County chimney services to ensure everything is in safe, working order. This can literally be a fatal mistake, leading to fires or carbon dioxide poisoning, not to mention less major but still undesirable issues like leaks or unwanted pests. To prevent any of those scenarios from unfolding, you should both look for signs that would indicate the need for services or repairs and, if you haven't had it inspected or swept in a while, have a trained professional inspect your chimney. There are some key things to check for that would mean it's time for chimney services in Mercer County. Below we will explain what to look for.
Mercer County Chimney Services | Signs Your Chimney Needs to be Serviced
If there is any visible damage to the chimney, that is an obvious sign that you need Mercer County chimney services. Cracks, chips, or any other type of damage can create serious problems down the line. In some cases, these issues can be patched up and the chimney will be as good as new. However, in other cases, more extensive repairs or even replacement may be necessary. A professional will be able to assess the situation and let you know what your options are.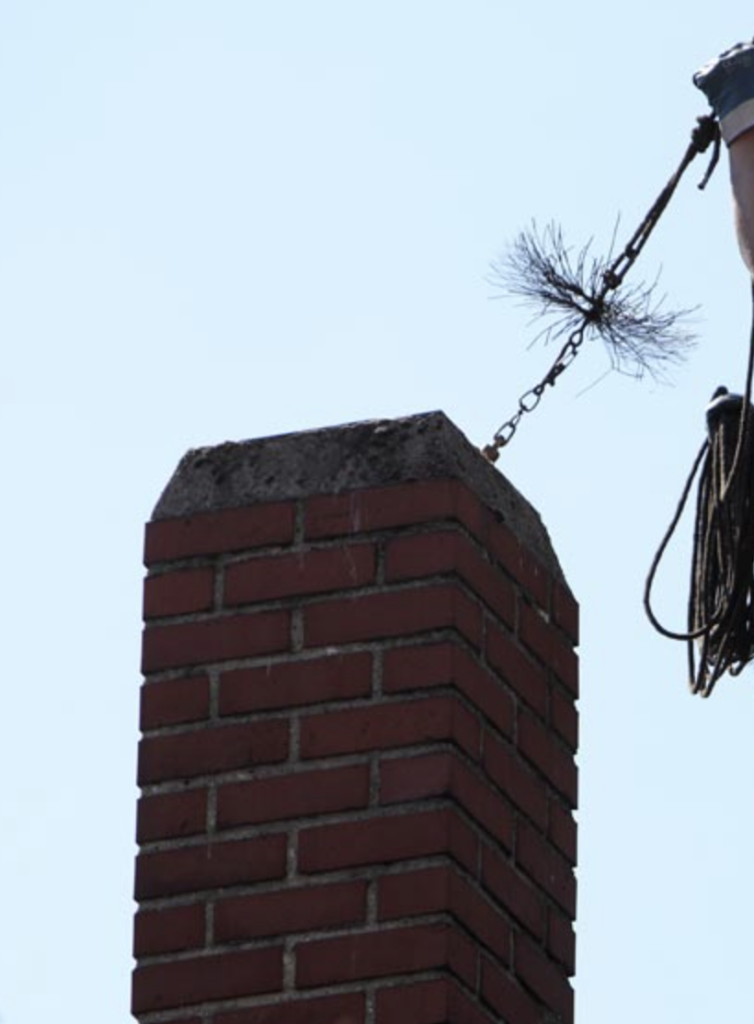 Another thing to look for is whether or not there are any animals living in your chimney. This happens more often than you might think! Animals like birds, squirrels, and raccoons find their way into chimneys all the time and can cause all sorts of problems. Not only can they damage the chimney itself, but they can also build nests that block the flue and lead to dangerous buildup of carbon monoxide. If you see any animals around your chimney or hear unusual noises coming from it, call a professional right away to have them safely removed and your chimney inspected.
If you notice any changes in the way your fireplace is working, that is another sign that you need chimney services in Mercer County. For example, if you used to be able to light a fire without any trouble but now it's becoming more difficult, that could be a sign of a blockage in the chimney. Or if you notice smoke billowing back into the room instead of going up the chimney, that's definitely a problem that needs to be addressed.
Finally, if it's been a while since you've had your chimney swept or inspected, it's probably time to go ahead and schedule those Mercer County chimney services. How often you need to have this done depends on how often you use your fireplace. If you only light a few fires each year, once per year should suffice. But if you're using your fireplace on a regular basis, you may need to have it swept more frequently. A good rule of thumb is to have it inspected once per year and swept at least every other year.
If you notice any of the above signs, don't hesitate to call a professional for chimney services. The sooner you get the problem addressed, the better. And of course, if you have any questions about your chimney or aren't sure whether or not it needs to be serviced, a professional will be able to help you out.
Looking for an Experienced & Professional Chimney Sweep for Chimney Services in the Mercer County, New Jersey Area?
Searching for the best Mercer County Chimney Services? Contact St. John Chimney Sweeps to inspect your chimney and have it cleaned. St. John Chimney Sweeps has been in business for over 15 years. We are a full service chimney and fireplace sweeping and installation company in Princeton, New Jersey. We offer 100% customer satisfaction and a no mess guarantee. Our products also come with a lifetime warranty. The employees at St. John Chimney Sweeps go through an extensive training and have earned certificates, which permit them to do the job right. We are honest and efficient in all our jobs. We are also a licensed and insured company. St John Chimney Sweeps is the most trusted New Jersey chimney sweep company. We have the experience and the skills to far exceed your expectations. Give us a call today. We encourage you to look through our website and see all we have to offer. Our blog can guide you in the right direction with helpful tips and advice on chimney related services.
Related NJ Chimney Sweep Posts:
Chimney Service in Mercer County